Sprinkling vs Submersion
---
The History Of Sprinkling Baptism

---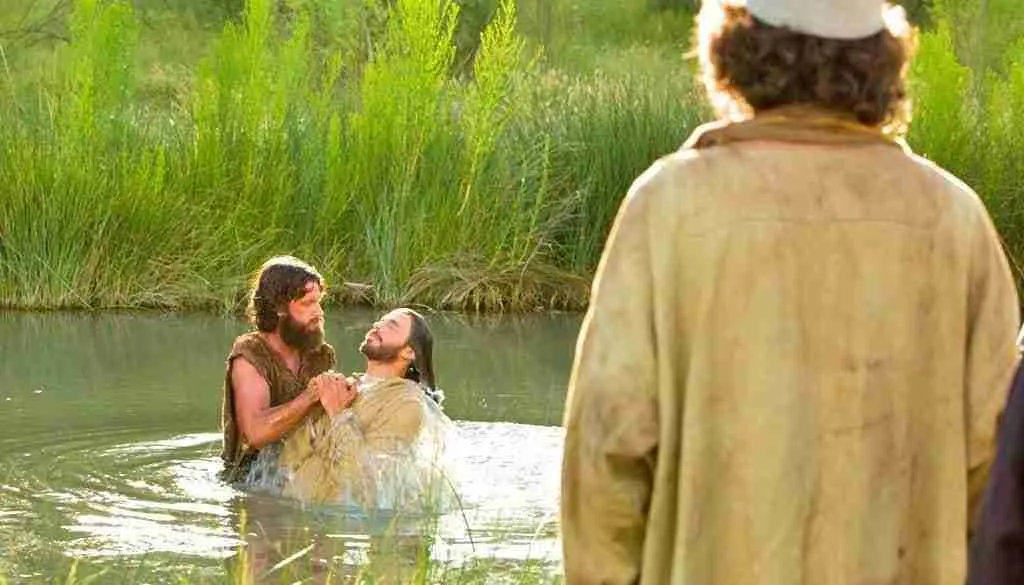 Trying to Imitate the Baptism of Jesus
Early Christians, in trying to imitate the baptism of Jesus in the Jordan River, preferred rivers for performing baptisms and this was also suitable for the baptism of large crowds. Later, since rivers were not always readily available or climate conditions made this impractical, the use of indoor baptismal pools became the preferred choice for those who practice submersion baptism and sprinkling (or pouring water over the head) for those who practice partial-immersion baptism.
The word "baptize" is derived from the Greek word "baptizō" meaning: "fully wet", immerse, submerge, plunge into, dip, or bury.
There are no examples of baptismal sprinkling in the New Testament.
The Greek words for "sprinkle" (RHANTIZO) or "pour" (CHEO) are not used.
The apostles in Matthew 28:19 were commanded by Jesus to teach and baptize all nations. Of those recorded instances, all went down into the water and came up out of the water, including Jesus, and none were recorded as being sprinkled or having water poured on them.
---
Sprinkling
---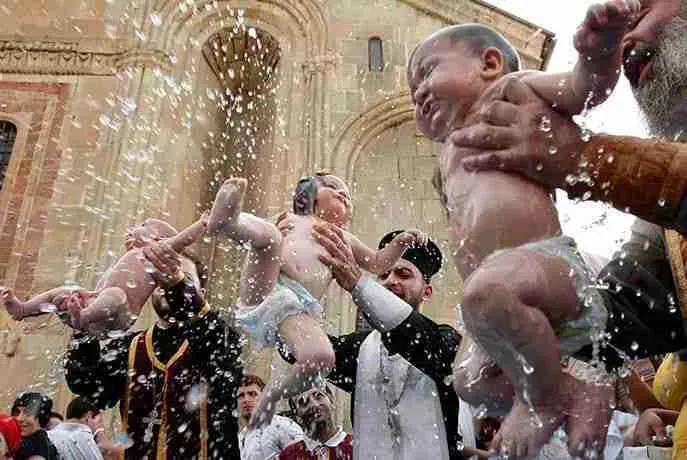 Mass Sprinkling of Babies
Some churches say there are several acceptable choices regarding the action involved in baptism. Consider statements from various "Christian" denominations:
"Baptism may be administered by sprinkling, pouring, or immersion, according to the choice of the applicant" – Church of the Nazarene Manual, 1972 ed., p. 33.

 
"What is the meaning of the word "baptize"? "Baptize" means to apply water by washing, pouring, sprinkling, or immersing" – Luther's Small Catechism, par. 244, p. 170.

 
"Dipping of the person into the water is not necessary; the Baptism is rightly administered by pouring or sprinkling water upon the person" – Westminster Confession of Faith, par. 6.141, Presbyterian Book of Confessions, 1967 ed.

 
"How is baptism given? It is given by pouring water over the forehead of the person to be baptized …" – A Catechism for Adults (Catholic), 1975 ed., p. 63.
---
Submersion
---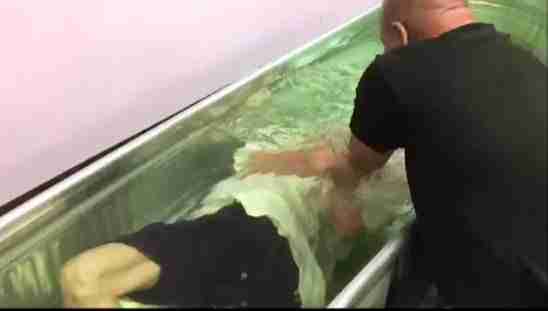 Full Submersion Baptism
The scriptural mode of water baptism is submersion (also called "total immersion") and is only for those who have fully repented, having turned from their sins and from the love of carnal worldliness. It is the form of baptism in which the water completely covers the candidate's body. 
Biblical passages such as Romans 6:2-13 and Colossians 2:12-13 indicate the person being baptized is submerged under the water as if being buried in order to represent a death and burial. (Generally, you never bury just the head of a dead person and leave their body exposed). When the person comes up out of the water, it represents Jesus resurrection, as if rising from the grave.
A "death" and a "burial" to an old way of life focused on sinning and a "resurrection" to the start of a new life as a Christian focused on God. John 3:3-5 also implies that baptism is by complete immersion in water to represent a birth to a new life as a Christian.
(Matthew 3:16)  "And Jesus, when He was baptized, went up straightway out of the water:"
(Acts 8:38)  "…and they went down both into the water, both Philip and the eunuch; and he baptized him."
(John 3:23)  "And John also was baptizing in Aenon near to Salim, because there was much water there…"
(Romans 6:4)  "Therefore we are buried with Him by baptism into death:…"
(Colossians 2:12) "Buried with Him in baptism in which you also were raised with Him."
(Romans 6:3-5) "Know ye not, that so many of us as were baptized into Jesus Christ were baptized into his death? 4Therefore we are buried with him by baptism into death: that like as Christ was raised up from the dead by the glory of the Father, even so we also should walk in newness of life. 5For if we have been planted together in the likeness of his death, we shall be also in the likeness of his resurrection:"
Search