18. Saved By Grace – What Does That Mean?
---
Saved By Grace – What Does That Mean?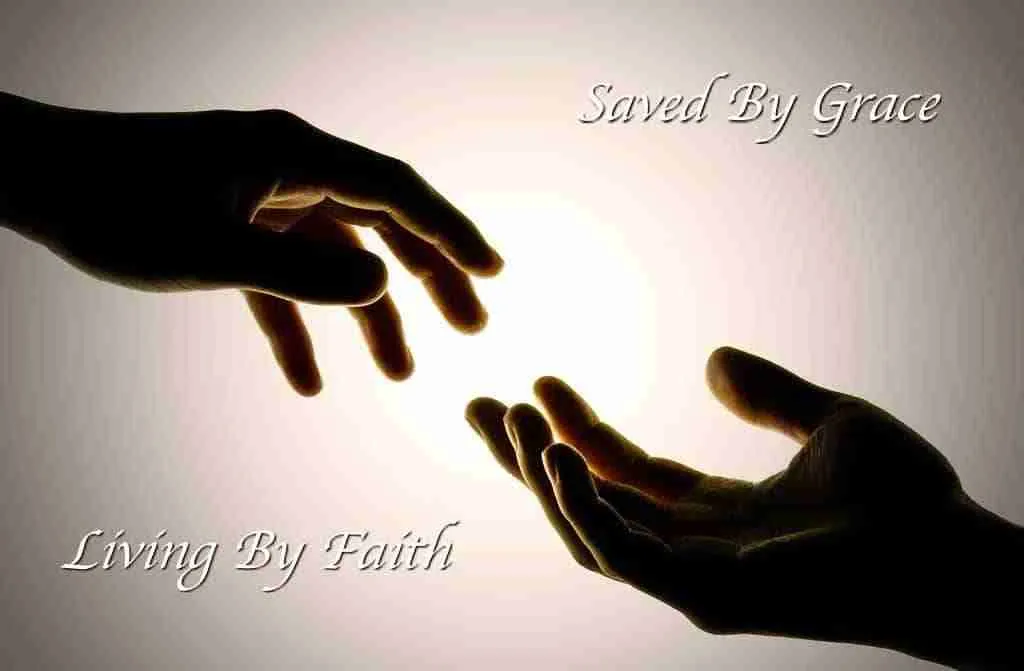 Faith and Grace Operate in Conjunction with Each Other
---
(Ephesians 2:8)
Saved By Grace
We All Must Meet God's Standard To Enter Heaven: Because There is a Judgment Day Where Each Individual Will Be Held Accountable.
God's Grace: made salvation available, Obedience determines its reality.
Don't let anyone deceive you.
♦ Faith (In God's Grace) Without Works (Not Living Holy) is Dead (No Salvation)!
"And as it is appointed unto men once to die, but after this the judgment:" (Heb 9:7) According to this passage, everyone dies, but not everyone goes to heaven. God is holy and perfect. Heaven, His dwelling place, is holy and perfect. It should come as no surprise that the Word of God tells us that we are to be perfect as our Father who is in Heaven is perfect (Matt 5:48). In many ways, this life is a time of testing—because our actions in this life determine our eternal destiny, Heaven or Hell.
There is a very popular, yet misleading, religious movement sweeping across the country which in essence proclaims that "we are saved by grace because of the finished work of Christ, and everyone that accepts this belief is going to heaven, regardless if you sin."
Important Note: That Is Fake News!
The finished work of Christ ONLY pertains to the foretold DEATH of Christ (Luke 18:31-34, John 19:28, Acts 13:29), Christ gave his life as a sacrifice for our sins (1Cor 15:3). The fulfillment of God's purpose in Christ is not only wrapped up in his birth, death, and resurrection but also the return of Christ to "put down all his enemies" (1Cor 15:24-25 NIV). Until such time, the promise of our salvation remains dependent on our obedience and the unfinished work of Christ (1 Cor 15:24-28 NIV).
The Prophecy of Christ Has Not Yet Been Fulfilled
1) We find in Isaiah several promises (Isaiah 9:7 ) yet to be fulfilled, One was that he shall carry the government upon his shoulders (establish it – verse 7). Jesus never formed or ruled a government from the throne of David, which is to be given him by God (that did not occur then, nor today).
Luke 1:32 – He shall be great, and shall be called the Son of the Highest: and the Lord God shall give unto him the throne of his father David:
Isaiah 9:7 – Of the increase of his government and peace there shall be no end, upon the throne of David, and upon his kingdom, to order it, and to establish it with judgment and with justice from henceforth even for ever. The zeal of the Lord (H3068) [Yahweh, Jehovah] God of hosts will perform this.
2) The last major verifiable promise says that there is to be world peace forever (no end), which certainly does not exist at this time.
Satan, sin, and death are all still present, and doing quite well I might add, the promises and the reward of eternal life through Christ remain unfinished. Until such time, salvation is dependent upon obedience. If you are not living according to the will of God, the Lake of Fire is still operational and available for the wicked, non-believers, and the ungodly! (Rev 20:10 & 15)
It is said that we are living in the "Grace Dispensation Period" (Ephesians 3:2, 5-6), which is true, however, that does not mean that everybody (especially sinners, the wicked, etc..) will be going to heaven nor does it somehow support this new "Once Saved Always Saved" concept, which is primarily premised off of two other grace related scriptures (Ephesians 2:8 and 2 Timothy 1:9).
So let's explore what Paul is actually telling us in writing to the church of Ephesus and in his letter to Timothy.
(Ephesians 2:8) says "For by grace are ye saved through faith; and that not of yourselves: it is the gift of God:"
(2 Timothy 1:9) Who hath saved us, and called us with a holy calling, not according to our works, but according to his own purpose and grace, which was given us in Christ Jesus before the world began,
Definitions:
Whenever we have a discussion about the meaning of any scripture, it is always a good idea to present your understanding of those particular words which you have come to rely on in support of your doctrinal position. This can often identify and correct any potential error or misunderstanding. In these two passages (Ephesians 2:8; 2 Timothy 1:9) we find four words that are of great significance. They are grace, faith, work, and saved.
Grace (That which comes from God)
When we reference the word "grace" in these particular two passages (Ephesians 2:8 and 2 Timothy 1:9) it is made clear that it is "God's grace" that we are referring to (1 Peter 5:10).
Salvation (That which comes from God)
Whenever we reference the word "saved" in these two particular passages (Ephesians 2:8 and 2 Timothy 1:9), it is with the understanding that it is "God's plan of salvation" (eternal life/immortality) that we are referring to and not that of any other being. There must also be Scripture that supports this understanding (John 12:49-50, 1Th 5:9, 2Th 2:13, Titus 2:11, Rev 5:12, 13:8).
Therefore:
The first element of Salvation is: Grace
God's Grace – made salvation available to man, what that actually means can be broken down even further. God extending his grace upon man meant that blood sacrifice would no longer be required for the remittance of sins (Hebrews 9:22) – Christ would be the last and only sacrifice required by God from this point forward (Hebrews 9:24-28).
The next element of Salvation is: Faith
FAITH – is the substance of things hoped for and the evidence not seen (Heb 11:1)
GRACE, however, requires FAITH – those that come to God must believe that he is and that he is a rewarder of them that diligently seek him (Heb 11:6)
Note: This is vital because you must first have faith that God exists and His promises will be kept. That there is a heaven and that there is a resurrection unto eternal life. And because we have an example given us in Christ, witnessed by the apostles and others, that God raised him from the dead and he ascended up into heaven to sit at the right hand of God (Eph 1:20, 1Peter 1:21) our faith is strengthened.
Faith and grace operate in conjunction with each other. When we speak of grace we are speaking of faith also, because it is our faith that we put our trust in the grace of God.
What many may not realize is the fact that faith and grace are actually the resulting by-products that come from work and obedience.
Faith (Grace) w/o Work (Obedience) is Dead.
Obedience – is an action word, and action words indicate that some manner of work is to be performed
Note: When we are given instructions to obey a command it indicates that some type of action must be taken in response to the instructions/command given, so as to be in compliance (reflecting your act of obedience).
"Who in the days of his flesh, when he had offered up prayers and supplications with strong crying and tears unto him that was able to save him from death and was heard in that he feared; 8 Though he were a Son, yet learned he obedience by the things which he suffered; 9 And being made perfect, he became the author of eternal salvation unto all them that obey him; Heb 5:7-9 (KJV)
Your obedience ensures that your salvation becomes a reality.
Faith Without Works Is Dead
God doesn't give you salvation just because you exist. There is work that you are required to perform.
You received the Holy Ghost out of obedience to God. (Acts 5:32)
But without faith it is impossible to please him: for he that cometh to God must believe that he is, and that he is a rewarder of them that diligently seek him. Hebrews 11:6 (KJV)
Diligently – is also an action word, it implies the act of pursuing something you want to obtain or achieve (Your Salvation). You don't just receive the Holy Ghost and say; "that's it, I have no more work required of me," wrong.
We will always be tempted to sin while in the flesh. Therefore, to live Holy (or sinless) requires deliberate thought and action on our part to refrain from sin. To refrain is to resist and resistance is a form of work.
Saved By Grace Components
---
(Part 1.) God's Grace: is what made "salvation" available, through Christ – (John 1:17-18; Romans 3:24-25, 5:1-2, 15-17; Ephesians 4:7; 2 Thessalonians 1:12; Titus 2:11)
(Part 2.) Obedience: is what makes "salvation" a reality, for Obeying God (Through Christ) – (Acts 5:32; John 8:51, 12:49-50, 14:6, 14:10, 14:23-24, 15:10; Hebrews 5:9)
♦ Faith (In God's Grace) Without Works (Not Living "Holy") is Dead (No Salvation) – (James 2:26; Galatians 6:7; Eph 1:4; Eph 2:10; Heb 12:14; 1Peter 1:15-16 )
Because
♦ There is a Final Judgment Day Were Each Individual Will Be Held Accountable – (Acts 17:30-31; Romans 2:5-6, 14:12; 1 Cor 15:24-28 (NLT), 15:24-28; 2Cor 5:10; 1Pe 1:17; Rev 20:10, 12-13, 14 & 15)
God Has A Standard
We All Must Meet God's Standard To Enter Heaven:
God's Standard is Perfection!
God's standard to enter heaven is perfection.
(Matt 5:48) Jesus said, "Be ye therefore perfect, even as your Father which is in heaven is perfect."
God's standard never falls short of complete righteousness and holiness. Anything less than perfection is a sin.
Think about heaven for a moment. Heaven is a place of the "no more's" – no more tears, no more sadness, no more pain, no more sickness, no more death.
All of those things are caused by sin. The "no more tears, sadness, pain, etc." don't exist in heaven because sin does not exist in heaven. Heaven will be wonderful, not only because God will be there, but also because of what will NOT be there – SIN. Therefore SINNERS will not be in heaven!
Is God's Standard Of Perfection Even Attainable? – YES!
When God tells us that we are to be "holy," "perfect," "without blemish," spot, wrinkle, any such things (Eph 4:12-13, 5:27; Col 1:28; 1Peter 1:15-16) we are bound to believe that His command can be obeyed, and we ought not to be satisfied until we make God's command an actuality.
Jesus went to Heaven because he met God's standard (John 8:28-29, 12:49-50) – Jesus was our example.
One of the saddest hindrances that any teacher or pastor could do is lead people to suppose that God's purpose cannot be accomplished.
Does God command us to do what is impossible?  No!
The LIE, which Satan tries to instill in man, is that it is impossible to live such a victorious life (Jude 1:24-25; 2 Peter 2:4-6, 9).
How Is Perfection Obtained? 
Request: (Pastor Kevin Gregg's Sermon Notes: ———- ) Hint: Man's concept of perfection is based on his past, God's judgment of perfection is based on your condition right NOW!)
*This Page Is Under Construction. We Will Be Back Soon. Thanks
Search